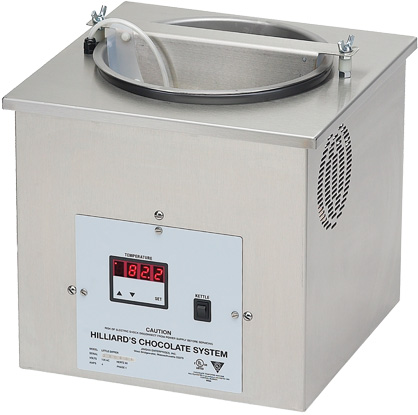 Tempering Capacity: 25 lbs. (12 kg.) per day

Size: 16" x 16" x 17" (41 x 41 x 43 cm)

Weight: Approximately 45 lbs. (21 kg.).

Electrical Requirements: 120 volts, 400 watts. Units can be supplied to meet other electrical requirements.


Big things come in small packages
The "Little Dipper" is a pilot plant (laboratory) size version of Hilliard's standard melters. A compact melting and tempering unit, it is designed to process from 1 1/2 pounds to 25 pounds of chocolate per day. Tempering capacity can be greatly increased by pre-melting the chocolate. Even an inexperienced operator can produce exceptional products with little training.
Testing and prep small batches of specialty chocolates
The "Little Dipper" is ideal for preparing test market quantities of chocolates or for small batches of new items. Easy-to-use, it is perfect for coating fresh fruits, nuts and other types of centers as well as standard creams, barks and clusters.
Convenient in every sense of the word
A highly compact unit, the "Little Dipper" weighs only 45 pounds so it can be placed anywhere that is convenient in the shop. It plugs into any 120-volt outlet. The temperature is automatically controlled to within 1 degree F of the setting - your assurance of the best chocolate; quality and appearance.

The "Little Dipper" is constructed of stainless steel for sanitation as well as durability. And it is capable of daily commercial use with little maintenance. Cleaning and changeover to another chocolate can be completed simply and easily without the need for tools.

Parts are covered with a one year warranty.
Watch this unit in action!
Click on the video to the left to watch the Little Dipper in action. To view even more Hilliard's Chocolate System equipment demos, visit our YouTube page here.
For more information about the Little Dipper from Hilliard's Chocolate System, call (508) 587-3666 or click here to send us an email. Thanks!