The finest chocolate melting, tempering, coating & decorating equipment from Hilliard's Chocolate System
---
Hilliard's provide the finest in machinery for chocolate candy producers made in the USA - tempering melters of several capacities, hand coaters, complete coating systems, and cooling cabinets - for the novice or experienced chocolate maker - to provide a complete range of capabilities.

Our systems are designed to offer it all - efficient operations, fast start up and easy clean-up, quick changeover from one batch to another, all combined with an attractive styling and sanitary design.

Hilliard's chocolate processing equipment. Engineered for excellence and built to last - they'll give you more efficiency, more product for your money.
Another very busy year at Hilliard's Chocolate System
---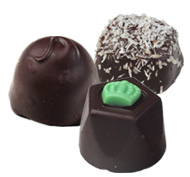 2020 turned out to be a much busier year then we at Hilliard's had expected. 2021 is starting off in a similar fashion. If you think you might be interested in any machines this year or even early next year, it would be best to call and give us as much lead time as possible. Several vendors are struggling sourcing electric components and some metal components, causing lead times can be significantly longer then usual this year. So the earlier you talk to us, the better.